Dispensing equipment and depositors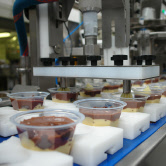 Stelram Engineering designs, manufactures and installs a wide range of dispensing automation and depositors to ensure your production line's finishing touches are carried out with precision and consistency.
Efficient, reliable and robust, our dispensing and depositing solutions are already trusted by the manufacturers of a wide range of food and drink products, many of which can be seen in high street stores around the UK.
---
Volumetric food depositors and robotic dispensing systems
We design automated and robotic depositors and dispensing equipment according to your application requirements, offering bespoke advice on the most suitable method, and integrating leading vision systems for higher accuracy where this will add value to your production processes.
Our depositing and dispensing systems are primarily used within the food and drink sector for use with both wet and dry products, with robotic systems also used to apply materials to other components in automotive assembly lines.
Wet dispensing automation – used to apply materials such as glazes, sugar syrups, alcohols etc via spray nozzles, shower dispensers or injecting heads.
Dry dispensing machinery – used to decorate products with materials such as sugar, desiccated coconut, nut particles, chocolate, flour, oats etc.
---
Learn more about our wet and dry dispensing equipment
If you're looking for automation depositing or dispensing technology to help you increase productivity, and reduce overheads and waste, please call us now on 01924 339111 and one of our experts will be happy to advise on the right equipment for your requirements.
---