Automotive automation systems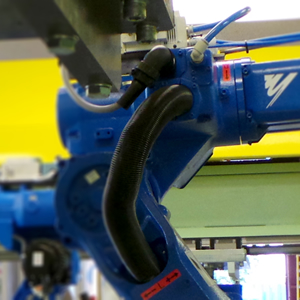 Stelram Engineering has been providing assembly automation systems to the automotive industry since we first started trading back in 1987.
Over this time we've built a strong reputation for our high quality and reliable special purpose machinery, robotic and mechanical engineering excellence, and exceptional levels of customer service and after-care.
Our experience in the automotive assembly process has enabled us flex to industry demands, creating robust solutions to help you keep pace in the changing production environment. Through continually improving our automotive manufacturing technology, we help businesses like yours to reduce costs, improve efficiency and output, raise standards and ensure maximum safety.
---
Our automotive robotics and manufacturing equipment
We can supply, deliver and install a wide range of standardised automotive assembly equipment, robotic automation or engineer a bespoke solution if required.
Working across the automotive industry, particularly with 1st tier suppliers, our integrated assembly systems and manufacturing equipment caters for a wealth of production requirements, including:
Material application
Pressing
Our friendly team of automaton experts are always on hand to offer guidance and advice on the best technology for your needs, and adapt our products to suit your requirements where possible.
Safety is paramount in automotive manufacturing, so we ensure that all technologies are fully risk assessed, in accordance with the European Machinery Directive 2006/42/EC and appropriate safety measures applied.
---
Automation applications for your industry
Stelram's innovative and cost-effective automation systems deliver a consistent, quality finish at all stages of the manufacturing and assembly process, and can be designed to suit a range of materials:
Carpets
Trims
Metal
Plastic
Fabric
Interiors
From initial consultation, to design and integration with existing assembly equipment, right through to installation, operator training and ongoing support and maintenance, we're confident that our turnkey services will add value to your business and exceed your expectations.
---
Advanced automation tailored to your needs
When you choose Stelram as your automation and assembly partner, you have the peace of mind that comes from working with genuine experts in automotive manufacturing. Our ability to meet tight deadlines ensures minimum downtime and maximum efficiency, with every step of our service tailored to your industry, and most importantly, your individual specifications.
For a no-obligation chat about your automotive automation requirements, call our experts today on 01924 339111 or send us details via email and we'll respond as soon as we can.
---
Processes We Use
Click on each process below to read more