Automated cake decorating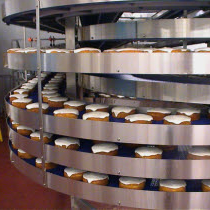 If you run a bakery or confectionery production line, an automated cake decorating machine offers a wide range of benefits to your business. While traditionally decorative features would be applied to cakes, cookies and other products by hand, ever-growing demand means that manual decoration is no longer viable on busy production lines.
Stelram offers a range of innovative automated and robotic cake decorating and finishing machines, helping you to keep pace in today's production climate. With speed, accuracy and reliability all crucial requirements, our solutions promise to deliver on all levels.
All of our automated and robotic cake decorating and finishing machines are engineered according to the European Machinery Directive 2006/42/EC and the European CEN 'C' standards for Food Machinery Safety.
---
Versatile cake decorating machines
Depending on your exact requirements, we can design, manufacture and install standalone cake finishing equipment, or integrated solutions to complement your existing bakery production line.
Functions and capabilities include:
Add icing to tops and sides of cakes and baked goods
Smooth icing or decorative icing
Add sweets and other confectionery
Glaze with sugar, syrup or chocolate
Add decorative finishes and embellishments
We can also implement 2D or 3D vision technology, allowing the machine to produce the same quality finish regardless of any inconsistencies in the size and surface of the cake or product to be decorated, with auto-locating of the item on the conveyor system.
From simple icing to more intricate decorating features, our automation equipment will give you the perfect finish every time, reducing waste and in turn, your costs. Our machines can be fitted with a variety of additional functions, allowing for changes in material consistency, and can also be integrated with cleaning systems for compliance to hygiene standards.
---
Direct access to our automation experts
Our no-obligation help and advice is only a phone call or email away, so dial 01924 339111 with any questions you may have, and we'll do everything we can to assist you. If you choose Stelram as your automation partner, you'll be allocated your own dedicated project manager and benefit from our exceptional standards of ongoing support and aftercare.
---