Our distribution partners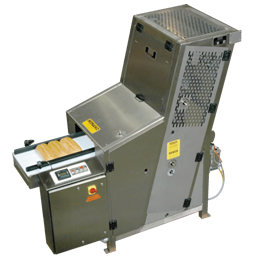 UBE - United Bakery Equipment Co.
www.ubeusa.com
Specialising in slicing and packaging bread, buns, rolls, bagels, tortillas, pita bread and other bakery products. Their machines include slicers, baggers, wrappers, decrusters, dicers, heat sealers, conveyors and other custom machinery.
UBE started in 1966 with a hamburger bun bagging machine in Kansas City, Kansas. Today, UBE is the largest supplier of bread and the bun slicers and baggers in the United States.
UBE's history includes:
- Developed high speed bun polyethelane bagging
- Started with cluster bun bagging machines
- In 1973, UBE purchased Maine Machine Works, a business founded in 1907 that built the first industry accepted bread slicer in 1926
Selling to customers in 60 countries in North & South American, Europe, Asia, the Mid-East, Australia and New Zealand.
UBE is a member of BEMA (Bakery Equipment Manufacturers Association) and ASB (American Society of Baking).
A video of their - Model 90-75 Slicer 2012 can be seen here.
You can see a list of their machines here - www.ubeusa.com/product_list.html
---
Our robotics and automation partners
While we're established experts in our field, our ability to deliver exceptional assembly automation products that meet all relevant safety laws and regulations takes a team effort.
Over our long history, we've developed important, key relationships with a network of trusted suppliers in the UK and globally, who offer their ongoing advice, assistance and support, along with their own leading technologies.
It is the combined strength of our own people and these trusted partners that allows us to provide such a high level of quality to the clients we work with.
For more information about these outstanding companies that we're proud to partner with, please click on their names to be directed to their websites.
If you have any questions about our professional partnerships or any of our automation or robotic products and services, please call our in-house experts on 01924 339111.
---